Description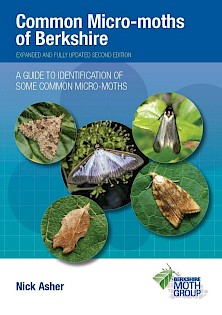 The second edition of Nick Asher's "Common Micro-moths of Berkshire" has been fully expanded and updated, with over 900 colour photographs depicting 200 micro-moth species. Although the book is based on information from Berkshire, the vast majority of species covered occur throughout Britain, so it remains a valuable reference for anyone interested in this group.
The 'micros' can be a difficult group to study, although more people are getting more enthusiastic about this fascinating group of insects. Finding the right information to help identify that species you've just encountered can be a frustrating process, but this book helps in ways that other reference material is lacking. Each species has its own page, with typically three or more photos, usually showing variations, and smaller photos depicting similar species. In the corner of each main photo is a 'life size' photo, which can be really useful if you have an unknown potted specimen. Where the book really shines however, is in the way the photos are annotated. There are numbered pointers to the most salient markings or features, with descriptive notes for each one. This really pinpoints the necessary identification features and helps to understand some of the terminology often used elsewhere but which can be difficult to grasp.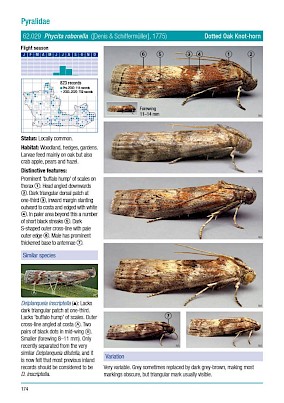 On many species there are overlays of coloured lines or shapes highlighting important angles or arrangements of markings. Where a species may need dissection to be certain of identification this is also highlighted in the text.
Each species page also has a flight season bar chart, a small map showing the moth's Berkshire distribution, and concise notes on status, distinctive features and habitats.
The book also contains several introductory sections including a thumbnail reference, details on terminology, identification tips and more.