Improving Knowledge and Conservation of British Moths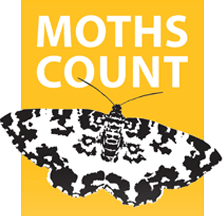 Moths Count is one of the biggest moth projects in the world. One of its major achievements has been to set up a new National Moth Recording Scheme in the UK.
Whether you are new to the wonderful world of moths or a knowledgeable enthusiast, Moths Count gives you lots of opportunities to take part. You can submit moth sightings, attend moth events or get involved in Butterfly Conservation's work to conserve moths.
Moth recording contributes to the knowledge and understanding of moths and is vital for their future conservation. By sending your moth records to the National Moth Recording Scheme via your County Moth Recorder , you will help to build up a picture of the distribution of each macro-moth species across the UK, Isle of Man and Channel Islands. You can view up-to-date distribution maps from the National Moth Recording Scheme right here on UK Moths. Just select the map thumbnail from below the main image on a species page.
You can find the latest news and get a wealth of information about these fascinating creatures from the Moths Count website.
The Moths Count project and National Moth Recording Scheme are run by Butterfly Conservation on behalf of a large partnership of individuals and organisations, with initial funding from the Heritage Lottery Fund.