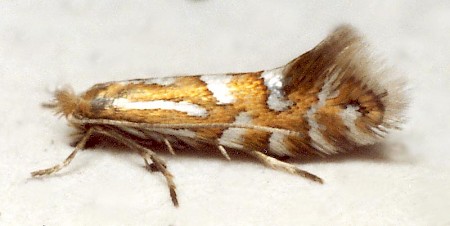 15.070 BF348
Phyllonorycter quinqueguttella
(Stainton, 1851)
---
Wingspan 6 -7.5 mm.
A relatively local and uncommon species, distributed mainly in the coastal counties around the British Isles.
The larval foodplants are creeping willow (
Salix repens
) and sandhill creeping willow (
Salix arenaria
). The larva feeds in a blotch on the underside of the leaf, which contracts and causes the leaf to pucker strongly. The mine is quite large and can occupy most of a leaf.
Like many other
Phyllonorycter
species, the moth has two generations, flying in May and again in August.
See also:
Leafmine
(De bladmineerders van Nederland)