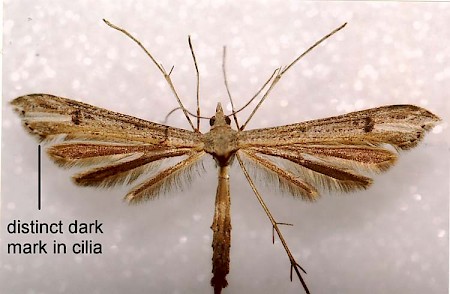 45.017 BF1508c
Small Scabious Plume Stenoptilia annadactyla
Sutter, 1988
---
Wingspan 17-24 mm.
This species was first recognised in Britain in 2005 by Colin Hart, who reared larvae found on flowerheads of Small scabious (Scabiosa columbaria) from the Breck District of East Anglia, and Settle, Yorkshire. It flies from early June to September, in at least two generations.
The wings are almost identical with those of the Stenoptilia bipunctidactyla aggregate, though, in fresh specimens, the blackish mark in the cilia of the anal angle of the first lobe is more distinct on S. annadactyla.
The final instar larvae of annadactyla are probably distinct. They are generally green, and though they may have a small amount of red, they lack the distinct dark red dorsal line bordered by greenish yellow subdorsal lines of Stenoptilia bipunctidactyla.
The only foodplant recorded is Scabiosa columbaria. Larvae found on it should be reared and the genitalia checked, as Stenoptilia bipunctidactyla also uses it, according to many published accounts.
Identification requires dissection of the female genitalia (See Gielis). The antrum, which is tapered and about three times longer than its width in Stenoptilia bipunctidactyla, has parallel sides and is only one and a half times longer than its width in Stenoptilia annadactyla.
[The help of Colin Hart with this text and photographs is gratefully acknowledged.]